A wave of new car attacks: 60 companies, 3 ways to build cars, who will win the final victory?
Last Saturday, Weilai Automobile ES8 officially opened its booking at the Wukesong Stadium and became an annual event in the field of new construction vehicles. This can not help but remind people of the same in this place, more than a year ago Jia Yueting tearfully launched LeSEE super car concept car LeSEE. One of the voices on social media today is: "Jia Yueting did not realize the dream. Li Bin helped him achieve it."
With the advancement of energy technologies and intelligent networking, the electrification and intelligence have brought new opportunities for the upgrading of the automobile industry. Curving overtaking - With the traditional vehicle host factory behind, it has become a new ambition for entrepreneurs. Tesla's success inspired them. "Being China's Tesla", almost all new car companies, will Tesla as a goal, began to run wild.
According to statistics of Bosch (China), now the car-building forces have doubled in size from the original more than 60 traditional automobile manufacturing enterprises, and 60, 70 of them have joined the new car manufacturers. Market competition has not only been described as fierce. According to Xu Daquan, executive vice president of Bosch (China) Investment Co., Ltd., it would be tragic.
The status of new car industry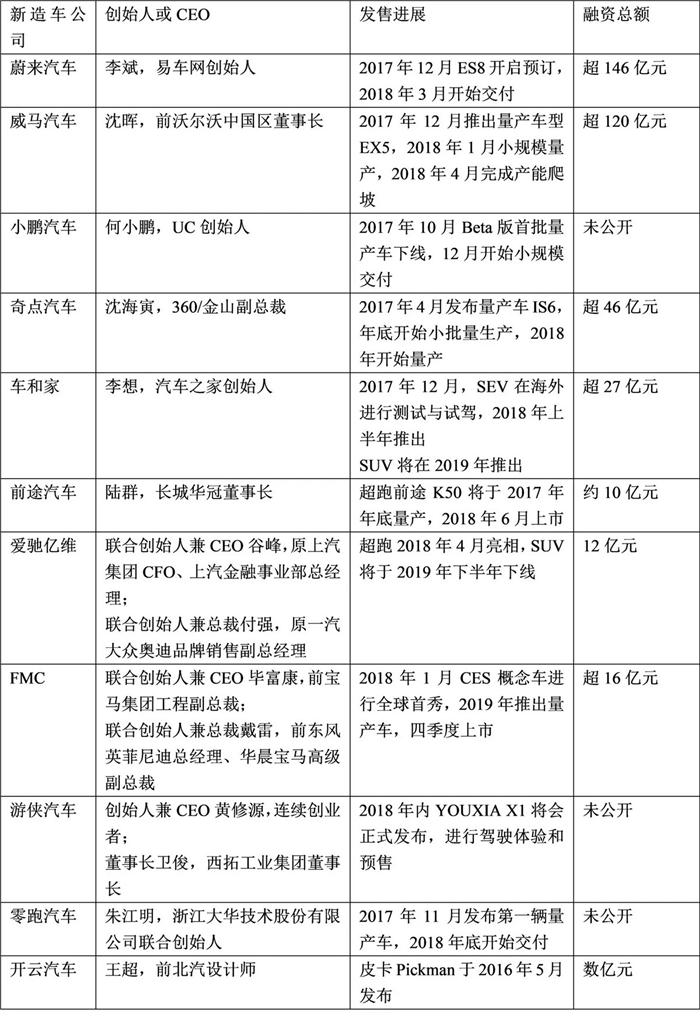 The most well-known new car company in the market
Among the many new car companies, only a few companies that can really gain the favor of capital and the attention of users are on the surface. These companies, whether they are financing lines or making cars, are shocking.
Weilai is one of the representative companies. Since its establishment in November 2014, the three models of EP9, EVE and ES8 have been released in November 2016. ES8 has been scheduled to open in December 2017. During the three years, UEL has completed a series of processes from design to mass production. Far faster than Tesla, the founder of the new car industry, which was founded in 2003 and released the first Model S that can be used in mass production for almost a decade.
The low profile of Weimar is just in contrast with the high profile of Weilai. Nearly three years after its founding, the company officially held its press conference in December this year. The company launched the "Wemaa" brand and the first production car EX5. The large-scale delivery and delivery are almost the same as those of Weilai.
The LeTV Supercar was supposed to be the first company in this form. Only now, whether as a LeTV Supercar or Jia Yueting, they are all regarded as typical failures. Jia Yueting and Li Bin are also known as vanguards of new vehicles. Weilai and LeTV are also the newest car manufacturers in China in the past three years. But the fate between the two is already very different.
Different founders, different ways to build cars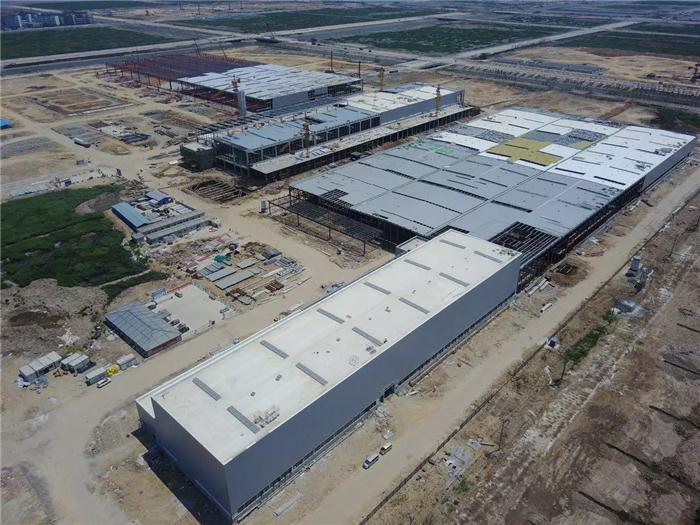 Weima Automobile Factory Wenzhou Industrial Park
From the point of view of the founders and the origin of the company, new car companies can be roughly divided into three types:
The first type, the founders come from the Internet industry, most of them have successful entrepreneurial experiences or serve as professional backgrounds for executives of large companies. This category includes Weilai Motor (founder Li Bin is the founder and chairman of Yichang.com), Xiaopeng Automotive (founder of UC Founder, former President of Alibaba Mobile Group He Xiaopeng), and Singularity Automotive (founder of the original 360 Vice President and Vice President Shenshan Shen of Kingsoft Software etc.) The typical features of these companies include strong Internet thinking, smart technology, and user experience.
"Automotive is a form. It is a tool we use to make travel better, but cars are not the only vehicle for change. This change may be through cars, or it may be through changes in the way travel services are included. A variety of means." A paragraph of the Singularity car Shen Haishun's previous interview may have revealed the Internet's overall view of the car. Jia Yueting also said, "We do not want to build a car. Instead, we must create a complete intelligent ecological transportation system by breaking the boundaries." For these people, car manufacturing is not to produce cars. More reasons In fact, it is still to grasp the entrance to the future mobile life.
Breaking through the sales channels of 4S stores and creating a complete after-sales service system is the biggest difference between Weilai cars and traditional car companies. On the one hand, this is a service system designed to build a high-end image of the brand; on the other hand, the Internet-based, de-intermediary way of thinking, and the habit of providing value-added services also coincide with the overall idea of ​​Weilai Auto. .
The second type of new-build vehicle enterprise comes from executives of traditional auto companies. Such companies include Weimar Motors (founder Shen Huiwei who once served as vice president of Geely Group, who used to manage Volvo Geely's acquisition of Volvo), and FMC (CEO's VP of Engineering), who led the BMW i8 electric sports car project and was called by the industry. The Father of i8"), Ai Chi Yi Wei (CEO Gu Feng, former SAIC Group CFO) and so on.
These experienced executives in the automotive industry are very familiar with the process of automobile production and manufacturing, and they are also good at building a complete design and research and development team, and maintain a good personal relationship with many upstream supply chains. In an interview, Weihui's Shen Hui said: "I have been engaged in the supply chain for many years and have maintained good relationships with many suppliers. Now that we are in a difficult initial stage, we all use the lowest cost, the most suitable attitude, and the fastest The speed to help me."
The emphasis on the overall architecture of hardware and vehicles is one of the characteristics of such companies. Shen Hui believes that for the future of smart cars, electronic and electrical architecture is even more important than the three electricity, even more difficult than the three electricity. A lot of post-installation can't be done, because the rear face has changed something, and it hasn't got into the car's core electrical and electronic architecture system.
It is worth noting that the first-type companies, Weilai Automobile, Xiaopeng Automobile and Qidian Automobile all indicated that they would develop their own autonomous driving systems. In the second group, Weimar Automobile accesses Baidu's autopilot platform, FMC. Choosing to collaborate with a start-up company in Silicon Valley that is engaged in autonomous driving technology, AZC chose NavInfo's technology.
The third kind of companies, such as Prosperous Auto, Kaiyun Automobile and Zero Running Car, are the extension development of the supply chain companies with certain related technology accumulation. The parent companies of Prosperous Auto and Kaiyun Automotive are the Great Wall Hua Guan and CSG Design, the automotive design companies, and Zhe Jiang Dahua Stock Co., Ltd., the zero-run auto investor. The main businesses are remote image surveillance and security.
Because the parent company has strong technical strength in a certain direction, such companies are often also "partial" companies. According to the statistics of the NE era, 78% of zero-run technology patents belong to invention patents, and many patents relate to areas such as automatic parking, auto-cruise/following, and blind-track detection. This may be followed by its investor Zhejiang Dahua. Product suppliers and solution service providers. The company's parent company, Changcheng Huaguan, has as many as seven authorized invention patents, far more than Weilai, Xiaopeng and other companies, and more related to automotive design, including car engine room, automotive exterior parts, door hinges and so on.
The problem facing such companies is that without the introduction of external investment, internal capital power may not be able to completely cover the costs of researching and producing new energy vehicles. In recent years, Great Wall Huaguan has raised nearly 1 billion yuan to build a promising automobile through pledge financing and private placement, but it is still not enough to compare with the financing of other companies.
Difficulties and obstacles, can the new company break the old order?
Around these new entrants, there are a large number of veteran car companies in the new energy market, such as steam Roewe, Beijing New Energy, BYD, Chery and so on. Compared with the new carmakers, these veteran companies are more low-key and do not have refinancing, autopilot, etc., but there have been many models on the road.
Compared with the traditional car companies, the new company does not have the advantage of first-mover advantage and experience. The unique and personalized advantages are mainly reflected in the product design and service experience. More importantly, it can be achieved through the combination of "AI + hardware + software + services". Make cars understand people's needs smarter. However, product design is not as easy to quantify as technical capabilities. Creating a cute explosive car is the hardest thing. New car companies generally adopt a completely different sales and after-sales model from traditional cars, which saves a lot of channel expenses, and they can unify service quality and reduce the time for offline construction. But all this is still based on the attractiveness of the vehicle itself.
A company that has been born for two to three years, lacks sufficient patented technology to be the norm. Especially for large-scale manufacturing fields such as automobiles, the appearance of new technologies must be accompanied by a large number of patents. Zhou Zhou, vice president of the China Automotive Engineering Institute, described the patented technology of our country as follows: At present, the patent applications of China's self-owned brand auto companies are relatively fragmented, and the overall layout and system planning have not yet been formed. The possibility of patent barriers and infringement risks is greater in the future.
Even if you have a patent, you have to face the problem of how to use it. This often requires the accumulation of experience and the addition of time. In 2014, Tesla CEO Elon Musk announced that it will open up all 228 patents of Tesla. However, He Xiaopeng once said: "Muske only opened the patent and did not make any explanation. We are a bit embarrassed. We managed to find Musk. He replied: 'You can use these patents, but we don't teach you how to use them.' "
Looking back at Tesla, although it has now become the most famous and successful electric vehicle brand in the world, its product crisis in the development process is also innumerable. As a casual comment, there is a battery-related fire accident. , Norway, charging accidents encountered under low temperature conditions, system security loopholes, recall of handbrake problems, and even accidents caused by auto-assisted driving failure. Can these companies in China avoid these problems? When the problem arises, can they escape the crisis and transform it into a risk? These are doubtful.
In the three years from the emergence of car-building tides to the present, mass production vehicles have not yet emerged, and many car companies have already faced the fate of failure. As we all know, the LeTV Supercar, when LeTV appeared in a large-scale crisis, Jia Yueting went out. Before and after the two CEOs Ding Lei and Zhang Hailiang left, the company fell into silence. Horizon Motors has no news. Botai stopped building vehicles in 2015. The PPT car maker's originator Ranger was appointed by Xituo Industrial in April this year.
For China's new electric car brands, the greater danger is that they have absolutely no chance of trial and error. With tens of billions of dollars in financing, mass production of a car is barely enough. Industry insiders have repeatedly indicated that the cost of building a car may require more than one billion US dollars. In the fierce market competition environment, if the first model does not become popular, capital will soon be gathered around the winners and the losers will be completely abandoned.

Stainless Steel Repair Clamp will seal corrosion holes, impact damage and longitudinal cracks.This kind of Repair Clamp can reduce stock holding due to wide tolerance in range.Stainless Steel Repair Clamp are available with single, double and triple bands,it provides full circumferential repair of splits and holes.Stainless steel repair clamp can be installed in Ductile Iron Pipe,steel pipe,PVC pipe,PE pipe and other types of pipe.It is very broad use of pipeline plugging.

Stainless Steel Repair Clamp
Stainless Steel Repair Clamp,Stainless Steel Pipe Repair Clamp,Adjustable Stainless Steel Repair Clamp,Sanitary Repair Clamp
SHANDONG PIPESOL FLOW EQUIPMENT CO.,LTD , https://www.sinopipesol.com